Motorcycle Transport Spain
admin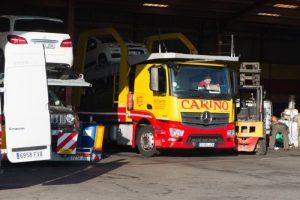 Grupo Cariño is an expanding company and we like to improve ourselves day after day. Since our inception, back in 1960, our policy has been to carry out a job that is safe, economical and of the highest quality. This makes us feel safe when transporting a motorcycle in Spain, as we know that the service we provide will be exactly what our client expects.
We carry out a large number of quality services at a low price. If you want to transport a motorcycle in Spain and you don't know how to do it, or with whom, don't think twice. Trust our 50 years of experience in the sector.  
You can be sure that we are going to transport your motorcycle in Spain with all the guarantees and the most modern security measures that currently exist in the market for road transport. We like our fleet of vehicle transport trucks to be state of the art. In addition, they undergo exhaustive maintenance controls to guarantee a safer and smooth trip.
Motorcycle Transport Company in Spain
When you need a towing service, roadside assistance, full auto body work or mechanical workshop, we have a large number of professionals who can solve any mechanical problem.
If you have to make a transfer and you don't want to know anything about paperwork, customs, port operations, etc., don't worry. Call us at the information phone number (+34) 958 459 001. We will put you in touch with the person who will carry out all the procedures you need: make a budget, find out about our great menu of services, etc.